Whether you are looking at a number of filing cabinets or shelves packed with file boxes, or you have historical or archival documents that need to be dealt with, it is likely that you are also wondering about the best way to scan and store documents. This is a good thing to consider, and there really is only a single answer.
The best way to scan and store documents is to have the scanning done by professionals, and then the storage managed in a cloud-based server or in an encrypted media that only you can access. It does not matter if you have hundreds or thousands of pages to scan or a moderate collection of historical materials, the answer is the same.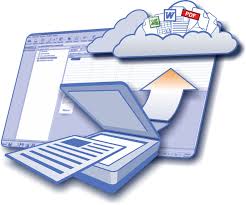 Why? It is because few consumers have the equipment needed to do fast and high-resolution scans of documents of any size. Most don't have the time either. After all, even if you could rapidly scan a few hundred documents in day, you would also have to sort and name the files and then ensure they were saved in the right file format before heading into the digital storage. This is just not a viable approach, and if you want to discard the documents after scanning, that adds another step and more time.
Fortunately, you can find providers of premium scanning services that do everything for you. They pick up the materials, sort them, scan them, save them as the file types you need, name them according to your criteria and then send them into a secure and private cloud storage or save them in the media of your choice. These collections of documents are searchable and easily used, making it the best way to scan and store documents for almost any. If you are eager to get started cutting down paperwork, contact eRecordsUSA to discuss your needs.
eRecordsUSA is also specialized in providing Document Scanning, Document Imaging, Document Archiving, Digital Documents Archiving, Document Archival, Document Digitization and more. Would you like to receive a free quote for Best Way to Scan and Store Documents? Call +1.855.722.6669 or eMail us at [email protected].
eRecordsUSA serving SF Bay, San Francisco Bay Area,  including San Francisco, Mountain View, Redwood City, Marin, San Jose, San Mateo, Santa Clara, Silicon Valley, Sunnyvale, East Bay: Alameda, Concord, Contra Costa, Fremont, Milpitas, Hayward, Oakland, Pleasanton, Dublin, Livermore, San Ramon, Napa Valley: Fairfield, Petaluma, Santa Rosa, Solano, Sonoma, Vallejo, California.