OCR Data Capture & Extraction Services
We Scan Books of Any Size, Shape, Style & Condition
Let Us Scan & Preserve Your Priceless Reading Assets!
OCR Data Capture & Extraction Services In San Francisco CA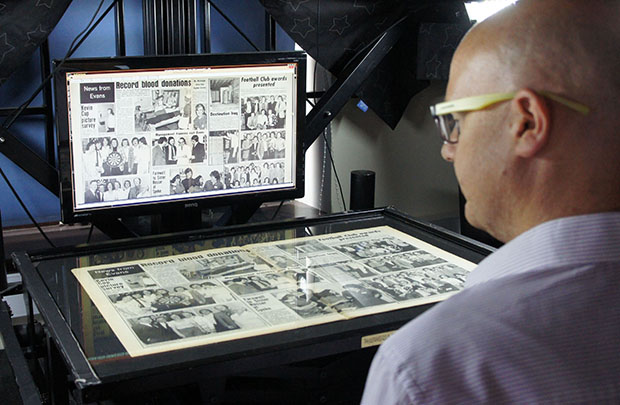 OCR imaging is a great way to turn small projects, up to about 200 pages, into digital format, allowing them to be searched with ease. Normally this would be a searchable PDF, but other formats are used too, such as Excel and Word. OCR stands for Optical Character Recognition. OCR Data Capture & Extraction Services basically allows typed documentation to be searchable as a text document or a PDF document. OCR documents are normally scanned at 300 dpi. It is a virtually automated process that doesn't take long, but is very accurate and efficient.
Optical Character Recognition (OCR) is a process to convert text into scanned images and then extract the text to make it searchable, indexed, and retrieved online. OCR technology is used for text extraction to get a digital copy into a machine-readable text format. For example, if you scan a form or a receipt, your computer saves the scan as an image file. You cannot use a text editor to edit, search, or count the words in the image file. However, you can use OCR to convert the image into a text document with its contents stored as text data.While we are applying the OCR code, accuracy is the main consideration. The best resolution to achieve accuracy has to be higher. Therefore a bright, high-quality scanning is a must. The crooked line in between might produce poor results.RGB mode is a preferred standard for OCR codes
At eRecordsUSA, we offer top quality data capture services, including data entry, capture, processing and indexing, form processing, and OCR conversion. We provide HIPAA level security, and accuracy of nearly 100%.
What Is OCR Document Scanning?
OCR document scanning not only allows you to search for particular items within an electronic form, also allows you to make changes.The documents can be formatted as word processing files, such as those compatible with Microsoft Word, so that edits and entries can be made. The documents are no longer fixed images that are difficult to utilize – you can easily type in any updated information.
Microsoft's OCR technologies are famous for supporting the conversion of printed text into several languages. The tool provides the standard scanning solution in searchable pdf file format. OCR technology is widely used for data entry from printed paper data records. As a result, you can access data that can be electronically edited, searched, stored, and displayed online.
What Is OCR Data Capture?
OCR Data capture is the process of collecting, arranging, formatting, interpreting, and storing data in a digital format. As Data is the biggest asset of organizations, it is preserved using the most advanced techniques like AI and Neural Networks. The extraction of useful data, storage, and management from physical papers or electronic format is not an easy task. The data conversion techniques might use scanning, editing, OCR method to get a readable digital format.
Software or hardware tools are specially designed to convert raw data into intelligent data More generally, data extraction and capturing refer to the extraction of text from scanned or digital documents (receipts, contracts, books, etc.,) and the conversion of the results into data for editing and processing. The unstructured data is converted into a structured format. Machine Learning tools make use of this structured data in data mining and other advanced applications.
Data Capture Services –
The automated data capturing agencies offer an extensive range of data capture services from images to web information to company files. Some of the services provided by data capturing companies are:
Form Data Capture –
Form data capture for surveys, questionnaires, sales, and billing forms, order forms, records, directories, applications, and resumes is a popular data capture method.
Invoice Data Capture –
Data Capture service providers capture invoice data to support back-office function capabilities, including sales and billing, credit and debit invoices, expense reports, timesheets.
Image Data Capture –
The image is captured from physical and digital sources, such as product brochures, catalogs, ebooks, photographs, and metadata using advanced scanning techniques.This is one of the useful way of data entry from images.
Marketing Information Capture –
Capturing data for marketing information, including sales, forecasting, market research, competitive intelligence, and internal data to support information management is another service provided by agencies..
Health Data Capture –
Accurate data capture for healthcare institutions and medical facilities, including patient diagnostics and information, patient questionnaires, patient behavioral information, pharmacy databases, claims, administrative records, surveillance, research, and disease registries.
Business Data Capture –
Data management for business materials, including emails, customer information, sales transactions, employee records, products, partner information, market data, industry data, and reporting to improve efficiency and accessibility of critical information.
Full Text OCR Services Benefits Numerous Industries
Many educational institutions will use OCR services to provide searchable electronic journal articles and books for students, but there are other ways in which this technology is applied.OCR scanning services is increasingly being used across numerous industries such as finance, healthcare and law, where large amounts of data must be processed, stored and organized.
With the help of full text OCR services from eRecordsUSA, professionals across all of these industries can have large amounts of printed data converted into searchable digital text. It is then possible to search for particular dates, names, locations and other keywords in the documents, quickly locating the information that is needed.
Any government office or enterprise can adopt OCR data entry. Microsoft OCR tool has brought a revolutionary change in making data entry more accurate and efficient. Outsourcing OCR-based data entry services to a reliable partner can help you save huge costs and valuable time. Some documents which are extensively being digitized include:
Invoices
Industry articles
Tax documents
Payroll information
Legal Documents
Contact information
Business cards
Financial investments
Full text OCR scanning services also use spell checkers to make sure the data is correct. Some services offer full-text imaging if basic indexing is not enough. Any document that is typewritten can be digitized; regardless of the type of material it is in, for example, microfiche, slides, paper, microfilm, etc.
Sometimes manual data entry may be necessary when imaging documents to be searchable. This could be due to poor quality or worn documents, or perhaps documents that were written by hand. In these cases, the documents need to be manually keyed and proofed. Reliable OCR imaging services will be able to handle the digitizing of virtually any document you may have whether that is via software or manually.
How Does OCR Document Scanning Work?
The OCR engine or OCR software works by using the following steps:
Image Acquisition –
An OCR-enabled scanner converts documents and converts them to binary data. The OCR software analyzes the scanned image and classifies the light areas as background and the dark areas as text.
Preprocessing –
The first step is cleaning the image and removing the errors so that OCR software can read the text. During the cleaning process, we check the following:
Deskewing or tilting the scanned document slightly to fix alignment issues during the scan.
Despeckling or removing any digital image spots or smoothing the edges of text images.
Cleaning up boxes and lines in the image.
Script recognition for multi-language OCR technology
Text Recognition –
The two main types of OCR algorithms or software processes that an OCR software uses for text recognition are called pattern matching and feature extraction.
Pattern Matching –
Pattern matching works by isolating a character image, called a glyph, and comparing it with a similarly stored glyph. Pattern recognition works only if the stored glyph has a similar font and scale to the input glyph. This method works well with scanned images of documents that have been typed in a known font.
Feature Extraction –
Feature extraction breaks down or decomposes the glyphs into features such as lines, closed loops, line direction, and line intersections. It then uses these features to find the best match or the nearest neighbor among its various stored glyphs.
Post Processing –
After analysis, the system converts the extracted text data into a computerized file. Some OCR systems can create annotated PDF files that include both the before and after versions of the scanned document.
How Do You Benefit From Data Capture Outsourcing?
OCR technology offers an effective data entry platform. This tool enables quick conversion of scanned documents to searchable text files. These documents converted into images, can thus be searched and viewed conveniently when required. The scanned documents can also be easily shared with the help of the internet.
State-of-the-art techniques to capture data by skilled professionals
Exceptional and specific quality output
Unparalleled delivery timeframes like no others
Minuscule pricing in comparison with other business expenditures
Infallible confidentiality and security of your priceless data
The finest grade of customer service like nowhere else
OCR software helps businesses to achieve higher productivity by facilitating quicker data retrieval when required. The time and effort to maintain data of all kinds becomes easy when you implement digitized OCR techniques. The software tool helps in reducing various other costs, such as copying, printing, shipping, etc. Therefore, OCR eliminates the cost of misplaced or lost documents and offers higher savings in the form of reclaimed office space and maintaining paperless offices.
One of the major challenges of data entry is inaccuracy. Automated data entry tools such as OCR data entry result in reduced errors and inaccuracies. The results are remarkable.OCR can scan, document, and catalog information from enterprise-wide paper documents. This simply means that the data can now be stored in an electronic format in servers, eradicating the need for maintaining huge paper files
The digitized documents created using OCR are completely text searchable. This helps professionals to quickly look up numbers, addresses, names, and various other parameters that differentiate the document being searched. Several inbound call centers, government offices, airports, railway stations, and other public places where huge data entry is done, OCR data entry tools have reduced the time to process the service.
Scanned documents need to be edited most of the time, particularly when some information must be updated. OCR converts data to any preferred digital formats such as Word, etc., which can be easily edited. Hence the content of scanned documents can be edited easily. When data is stored electronically in secure servers and distributed systems, it remains safe even under emergencies. When there are sudden fire breakouts or natural calamities, the digitized data can be quickly retrieved to ensure business continuity.
Our Data Capture Services Include:
A/P Invoice Processing and Data Capture
Rebate Processing
Online Web-Based Data Entry
OCR Cleanup and Conversion
Text/PF Conversion/XML
Ub-92/Dental Forms
We'll process your information safely and securely, and deliver it to you on CD, DVD, or via the cloud so that you can retrieve it whenever you choose. Our data capture service is economical, and accurate.
At eRecordsUSA, You Get:
Cleanup of your OCR output by our trained technicians
The latest high-speed scanning equipment
Cost-effective service
The format you select
In short, you can rely on eRecordsUSA for the most accurate OCR conversion services / OCR scanning services available anywhere, at any price.Our purpose is timely completion of your OCR document scanning project, and we use our resources to reach that goal. Try us out – we offer a no-obligation trial that will help you see what we can deliver in terms of quality and productivity.
Find Us On Google Maps:
DOCUMENTS, BOOKS & PHOTOS DIGITIZING IMAGING SERVICES
eRecordsUSA – DOCUMENT & BOOK SCANNING SERVICES
ALSO, READ OUR 5 STAR RATINGS HERE
Why Is OCR The Most Significant Digitizing Method?
Paper forms, invoices, scanned legal documents, and printed contracts are integral parts of the business processes. If you simply scan and create digital copies of this data, it will be difficult to edit them. However, they require a lot of space to store and manage.OCR technology helps to convert text into editable data. With the help of software, you can easily access the data to conduct analytics, streamline operations, automate processes, and improve productivity.
OCR technology is one of the latest technologies that helps conduct business activities. However, the cost is higher but there are numerous benefits of using OCR technology. Some of them include:
Improved operational efficiency
Better searchable and editable text
Can effectively create datasets for AI solutions
OCR code helps do eCommerce transactions
OCR Data Capture & Extraction Services Faqs
What Is The Purpose Of Data Capture Service?
Data capture services aim to automate your data entry process so that productivity can be drastically improved. This way we can convert unprocessed data into informative data. This data can be directly used in software applications.
An effective data capture strategy sets out how they can collect and manage information about their customer, clients, and prospects. The aim should be to deliver high-quality customer data allowing for a better understanding of your clients to enhance your relationship and drive more sales.
Does eRecordsUSA Provide A Free Trial?
Yes, we do offer a free trial of our data entry services. After the client gets satisfied with the quality of our services, they can sign the contract with us.
How Do You Ensure The Quality Of Your Services?
We follow strict quality assurance processes to make sure that we deliver high-quality data entry services to our customers.
OCR technology is generally accepted to be 98% to 99% accurate when it comes to reading and interpreting the information correctly from documents. This means that for a 1,000-page document, up to 980 or 990 characters are accurately read by the software and recorded electronically.
At eRecordsUSA, we guarantee error-free intelligent data entry that requires minimum time to review. Check out our price list! We provide a reliable document scanning service to our customers.
What Are The Limitations Of OCR?
OCR is used for extracting text data from images and classifying it using intelligent analysis. However, even OCR has a set number of limitations which are as follows:
OCR may not correctly scan tilted text and misinterpret handwritten fonts, unlike ICR. This can make certain words or phrases undiscoverable by document processing systems
OCR solutions may fail to interpret text contained in images. These solutions tend to partially read text from graphics and not convert the images into full text for interpretation
Global spell-checking errors and redundancy in error rates is another challenge faced by OCR software in the industry
Incorrect document boundaries across multiple files are a classic limitation of OCR. Embedded documents may be left out and there is a lack of visual classification faced for these documents.
What's The Difference Between OCR And ICR?
The document scanning service is done using a use-cases algorithm in both technologies. In both methods, Data capturing is done from paper-based documents. OCR is best used for scanning text-based documents and converting them into digital files. There is no need to manually retype data when you use OCR software and it is considered to be a very cost-effective solution for businesses.
ICR, on the other hand, is ideal for reading handwritten fonts and different styles of cursive text. It can recognize and convert multiple styles of handwriting effectively and is powered by intelligent neural networks which are capable of automatically updating databases. It is an expensive method.
Both methods are used for scanning text-based data. The scanned document is saved in the form of images that are converted in PDF or Tiff file formats. We have expertise in providing OCR service.
Choose eRecordsUSA For Data Capture Services
Being a data capturing outsourcing firm, we are quite capable of handling a wide range of data management services, our team is well qualified to furnish all sets of documents and data capturing services. We are already engaged in handling clientele of both public and private sectors with hands-on experience.
As to the process of data capturing service, we are already familiar with manual data entry, OCR scanning, and data conversion services hence our clients need not worry about processing. Our team can tackle it efficiently.
Our data capturing team can assemble, collect and arrange information in client-specified format.
We can extract information from analog sources and hence our team can assist in the easy processing of useful information.
Extracting quality attributes from online forms.
The manual capturing of information and converting selected information to a digitized format.
Our specialized data capturing team can reproduce from microfilm format.
Secured storage for already processed documents.
Scanning character-by-character, analysis of the image, and translation of the character image into character codes is not an easy task. To conduct the data processing task smoothly, you need to partner with the best OCR scanning company. Some of the things to consider while choosing an outsourcing partner for OCR scanning are:
The business document management services using OCR technology is one of the leading methods to use digitized documents for further processing using AI and ML software.
The service provider must use ultra-modern flatbed scanners for recognizing text and image data. The digitized data is then stored in a structured format.
Creating digital copies of the business data to provide the best fit solution to the organization's specific requirements.
Maintaining accuracy and confidentiality is a must.
Managing And Updating Scanned Documents
At eRecordsUSA, we implement the latest OCR conversion tools and techniques to maintain high-level accuracy.We deliver multi-language OCR scanning and conversion including printed text, typed text, handwritten text, audio or visual information, and cursive text. We have the technique to recognize special character and mathematical symbols,  font styles, and page layouts.Our document scanning and management services include:
Consistent communication with clients with 24/7 customer support
Customized service that suits the need of individual clients without compromising on quality
Constantly improving on delivering cost-effective, efficient, and secure services.
Error-free Services managing your business data that can improve the productivity
One of the significant advantages of OCR technology is the level of ease to manage high volumes of data. We ensure a fast and hassle-free OCR scanning service. We are an ISO-ISM-certified agency providing document scanning using OCR technology as per the industry requirement.
With a proven industry experience in providing back-office solutions, we successfully provide OCR scanning and data conversion. We make use of advanced techniques to deliver a high level of accuracy and minimum turnaround time. The difference in symbols, language, font styles, and page layouts are easily taken care of. Different data formats, including printed text, typed text, handwritten text, audio or visual information, and cursive text can be converted into digital formats
YOU CAN RELY ON US FOR :
Better Support
High-Quality Services
Tech friendly OCR Scanning
Cost-effective  Solutions
Data Security
Error-free Services
We stringently follow the protocols of data management and its benchmarked standards. The final output is impeccable in accuracy and quality. Over the years our error rate is less than 0.01% for delivering the best bulk document scanning service. Save you money and increase both the speed and accuracy of your data entry operations using our efficient document scanning service.
We employ an array of techniques to meet your data capture requirements flawlessly. Data capture personnel who are the best in the industry accomplish the following techniques: Long-range and short-range scanning linear imaging tagging 2D area imagers OCR (Optical Character Recognition)ICR (Intelligent Character Recognition)Linear imagersTally chatsBatch keyingMagnetic recordings and much more.
With the help of full text OCR conversion services from eRecordsUSA, professional scan not only search for particular items within an electronic form, but they can also make changes.The documents can be formatted as word processing files, such as those compatible with Microsoft Word, so that edits and entries can be made.
The documents are no longer fixed images that are difficult to utilize – you can easily type in any updated information.To receive a free quote, or to begin benefiting from full text OCR services, Call +1.855.722.6669 or eMail us at [email protected] now.

I contacted eRecords for a small-scale scanning job. Although they usually work on large projects, Pankaj was more than willing to help with what I was looking for! The scans that came back were high quality, and delivered in a timely matter. eRecords was also the business that quoted me the most competitive price. I would definitely recommend - Pankaj is knowledgable and a great collaborator to work with on meeting any scanning service you may need.

Nina P.


3/23/2023

I have used eRecordsUSA on three separate occasions and each job was performed exceptionally. All files scanned at high resolution, organized, and returned in a timely manner. Pricing was also very reasonable for such time-intensive work. Management was also very good with their communication.

I am a digital nomad that owns zero paper, so having all of my files in Google Drive is imperative. With Google's OCR (Optical Coherence Recognition) I can now find my files at lightning speed. ie - I search for [deed], [roof repair], [assessment], etc. and all relevant files "automagically" appear.

Cameron V.


12/09/2022

Erecords scanned 56 bankers boxes of legal case files and other professional documents for me. This was a particularly difficult and complex job because, in naming files, they had to work from both a written file inventory and the file names on the folders themselves and use a consistent file naming protocol that Erecords and I agreed upon. They did an outstanding job of following this file naming protocol and organizing the documents in digital form to create the file structure that I intended. This job was also difficult because of the variety of page sizes and the age and condition of some of the documents; they managed to accurately capture everything. They also made the job easier for me by picking the documents up at my home. Pankaj at E records was invariably courteous and helpful and spent the time needed with me before the job to develop a digital file structure to make the documents most useful. I highly recommend Erecords for document scanning.

David L.


2/27/2021

I chose eRecords to scan over 2000 pages of yearbooks and several hundred photos from the early 90's to early 00's. I was not disappointed. They were one of the few locations in the Bay Area that I contacted that let me drop off and pickup the material in person. The JPG and PDF scans that they sent me were extremely high quality and OCR'd the yearbooks so I can search for text. They were able to repair one of my yearbook's bindings to the point where I couldn't even find the repair! This place is professional and good value for what I received. If something ever happened to my irreplaceable yearbooks and photos I know they're digitized now and backed up to multiple locations on my network and cloud! Highly recommended, Pankaj and eRecords!

David B.


10/28/2020

I found eRecordsUSA on an internet search and contacted them to inquire about scanning to PDFs a set of some six hundred old, faded, tattered pages of an underground/community newspaper I co-founded fifty years ago.  I lucked out on this first call, finding a most professional, efficient, accessible, top notch company to help me archive my newspaper despite these trying, pandemic times.

Ted R.


7/14/2020

eRecordsUSA did a wonderful job scanning a large, irreplaceable, almost 100-year-old original opera. After checking with the State Library and other printers, we learned that eRecordsUSA was the company that could handle our job. The owner understood the job's importance to us and did the job quickly and professionally.

Jan a.


10/04/2019