Ensure Compliance and Boost Productivity with HR Document Management
Struggling with efficiency? Need to maintain compliance? HR documents scanning can reduce waste, improve productivity, and improve your business.
How efficient is your business? How much paper waste is generated in your HR department? If yours is like most other businesses, these are significant challenges. Our HR documents scanning service helps improve efficiency, increase organization, decrease waste, and achieve other mission-critical goals. From small businesses to Fortune 500 firms, we've worked with clients large and small to achieve vital improvements.
Anyone involved in business knows that paperwork can feel endless. The field known as human resources is particularly vulnerable to floods of paperwork because of the many different forms, applications, permissions and other items the work generates. Because most of the forms have to be retained during (and often after) employees' time with a firm, HR / human resource document scanning service may be of tremendous benefit.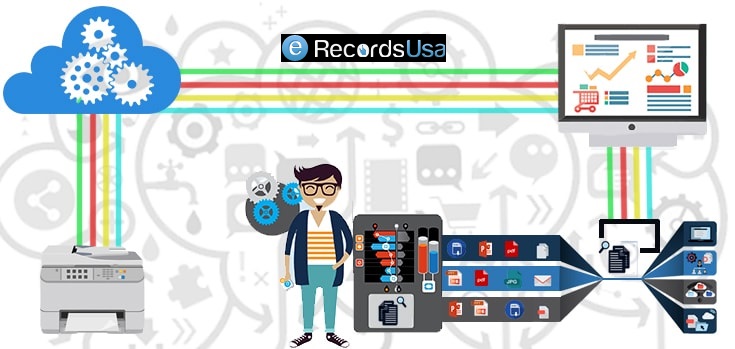 Just consider, document scanning done "in house" would do nothing more than turn a document into a digital file. It would have to be named and then saved to an appropriate part of the company's secure network. If information from it is needed, the file would have to be opened and somehow transcribed by the reader.
With HR document scanning service, that is brought to an end. This is because the best scanning services can take whatever documents you require scanned and use high quality equipment to make a high-resolution copy of the document but can also use data capture software and data entry to convert the information into a workable, digital file.
Not only that, but premium services can take bulk deliveries of files (old or new) and quickly convert them into high quality digital files. They would also be able to sort and name each of the documents to make your work far easier. Rather than shifting through an endless number of files and pages, you simply send the files to the scanning provider, and they turn everything into easy to use, totally organized and secure files.
If your provider also does online storage, you could have an optimal system for quickly sharing information between offices or locations, syncing documents as needed and streamlining the work. More office space, far less paper and easy workflow…that is what HR / human resource document scanning service from eRecordsUSA can deliver. Get in touch today to learn more.
Benefits of Scanning HR Documents
Why should you consider going paperless in the HR department? Actually, HR documents scanning can offer a number of important benefits for your organization, including the ability to store, organize, and access critical information easily from anywhere on your network. Additional benefits include the following:
Saving time and effort
Improving HR efficiency
Reducing costs
Compliance with government and industry rules and regulations
Improved Searchability with HR Documents Scanning
Our digital archiving services do more than simply create digital images of your documents. Using technology like OCR, we enable you to search documents by any word or block of text on the document. This ensures much easier search and findability, further reducing time and workload for your HR team.
Important HR Documents to Scan and Store
Social Security cards
Driver licenses
Birth certificates
Pension information
Retirement information
Drug and background check info
Resumes and applications
 Would you like to receive a free quote for HR / Human Resource Document Scanning services? Call +1.855.722.6669 or eMail us at [email protected].
eRecordsUSA serving SF Bay, San Francisco Bay Area,  including San Francisco, Mountain View, Redwood City, Marin, San Jose, San Mateo, Santa Clara, Silicon Valley, Sunnyvale, East Bay: Alameda, Concord, Contra Costa, Fremont, Milpitas, Hayward, Oakland, Pleasanton, Dublin, Livermore, San Ramon, Napa Valley: Fairfield, Petaluma, Santa Rosa, Solano, Sonoma, Vallejo, California.