When thinking of the word "archive", most of us envision a place of dusty volumes and file boxes. Though those materials might literally sit untouched for decades or longer, they also cannot be discarded. From oversized map books and collections of key documents, they may have both historical and legal value. This can be problematic, but there are now large format books archiving services that can help.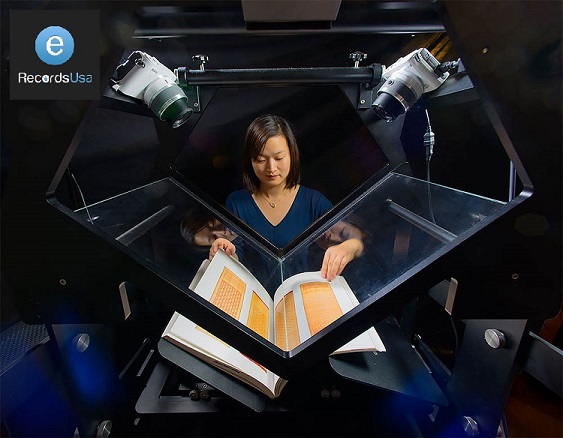 These services can provide you with two ways of approaching large format books archiving – destructive and non-destructive. Don't let those terms frighten you from the process. What they really mean is this – if you do not want or need the original documents returned, part of the archival process can be shredding the document after making it fully digitized.
If you need a completely non-destructive form of archiving – giving you both a digital version of the information and the safe return of the originals, this is an option, too. The point is that you have choices. If you want to store large format books more permanently without continually maintaining an accessible archive, such as safely warehousing originals, the digitization of the books makes it possible.
Clients of eRecordsUSA can turn to them for premium large format books archiving services. They pick up your materials, make the scans in whatever way you require (PDF, ePub, JPEG and more), and either return your materials in their original condition or destroy them per your request. If you also wish to make your archiving an absolute certainty, they can provide you with cloud storage of the files in addition to high-quality copies on DVD or CD.
You do not have to keep fragile, historical or simply required hard copies of large format books on hand or in a nearby facility when book scanning is so simple, affordable and readily available.
eRecordsUSA is also specialized in providing Book Scanning Service, Fragile Book Scanning, Book Imaging Service, Book Archiving Service, Book Archival Service, Non-Destructive Book Scanning Service and more. Would you like to receive a free quote for Large Format Books Archiving Services? Call +1.855.722.6669 or eMail us at [email protected].
eRecordsUSA serving SF Bay, San Francisco Bay Area,  including San Francisco, Mountain View, Redwood City, Marin, San Jose, San Mateo, Santa Clara, Silicon Valley, Sunnyvale, East Bay: Alameda, Concord, Contra Costa, Fremont, Milpitas, Hayward, Oakland, Pleasanton, Dublin, Livermore, San Ramon, Napa Valley: Fairfield, Petaluma, Santa Rosa, Solano, Sonoma, Vallejo, California.