If you need large documents for your business, workplace, hobby, or for any other purpose, you've probably already considered the many benefits of digitizing those documents. Large format document digitizing service can improve company productivity, keep documents safe from natural wear and tear, reduce your storage costs, and more. But when we say "large format", what exactly do we mean? Do you know if your documents can be digitized? Worried that they might be too big to possibly work? There are some documents or pieces of art that just seem impossibly large, too large for any scanner to handle.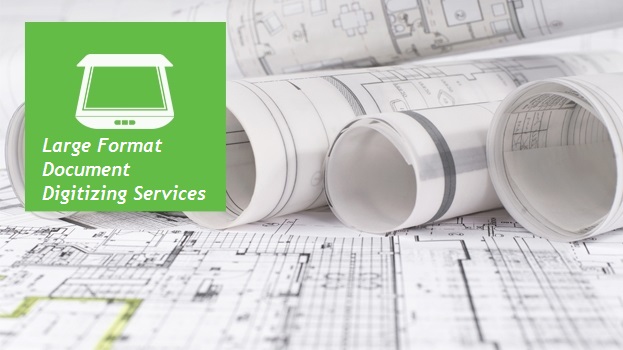 Think again. Our team at eRecordsUSA can handle all projects – documents, art, and more — of any size. We don't only specialize in a specific type of large format document digitizing service. Instead, we'll work with any kind of document you may have – blueprints, original artwork, historic documents, newspapers, maps, and more can all be digitized through our process. We have experience working with delicate documents that need careful handling during the digitization process and can help you make it instant and easy to access your documents from anywhere.
The equipment that is needed to perform large format document digitizing service isn't available at any standard copier. Artists, architects, cartographers, and other professionals know that it can be difficult to find the right type of scanner for these large-format documents. We have the tools needed, so you don't need to purchase a scanner yourself, or waste your time learning how to use one. Instead, let our team help you get organized and keep your large documents safe. It truly doesn't matter how big your document maybe – get in touch with us to receive a free estimate, and we'll discuss all the options for digitizing your large format documents.
eRecordsUSA is specialized in providing professional Large Format Scanning Services, Large Format Blueprint Scanning Services, Large Format Blueprint Imaging Services, Large Scale Book Digitization Services, and more. Would you like to receive a free quote for your project? Call +1.855.722.6669 or eMail us at [email protected].