Having a digital copy of official oversized documents is paramount. Digitization will not only provide flexibility of use and long-time preservations but also help you automate your business processes.
There are many other advantages that you can avail. One of the bigger ones is to help in saving the environment and making use of the virtual platforms that are providing cost-effective storage.
The organizations maintaining large documents have several questions in their mind before they opt for a digitization process. Some of the common queries are:
How do you digitize oversized documents?
How do you digitize your most important documents?
Where can I scan a lot of documents?
How do I make large picture files?
What are the latest techniques used for scanning oversized documents?
If you are having oversized documents then digitizing them would be a priority task for your organization. Don't worry! This post covers a detailed process on the digitization of large documents. Also, the answers to the above questions will be provided in the post. Let's get to know the details.
What Are Large Format Documents?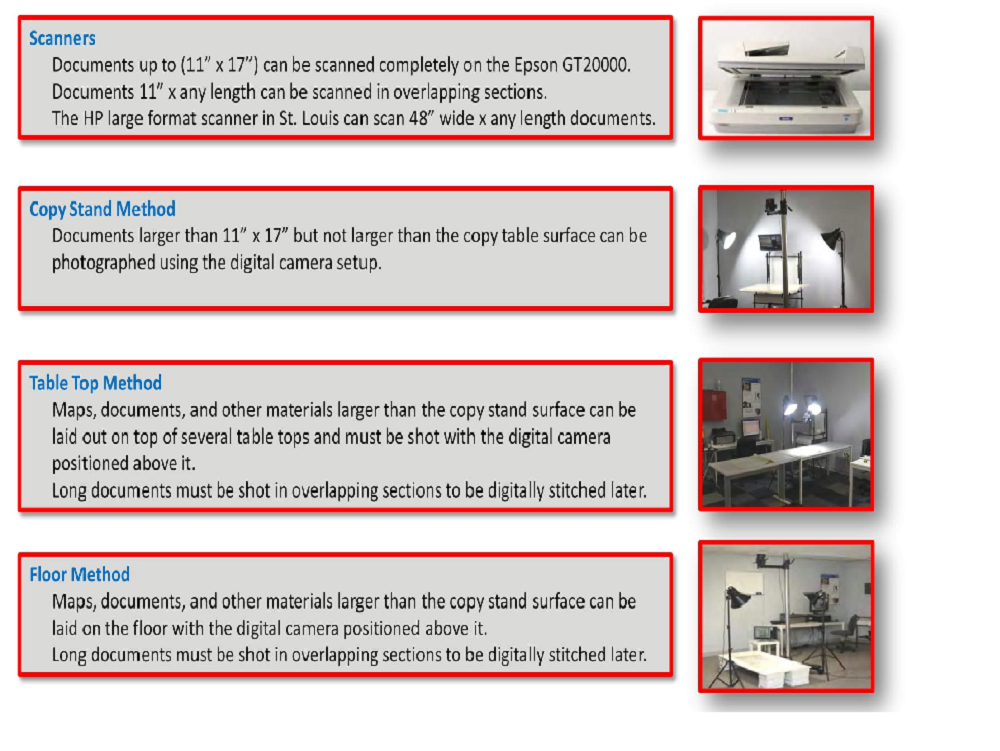 Oversized documents are records that are larger than the  "standard" size pages, such as office (or letter ) size (8.5" x 11"), legal-size (8.5" x 14"), and ledger size documents (11" x 17"). Some of the examples of oversized doc types are:
Blueprints
Engineering drawings
CAD Files
Posters
Over-sized drawings
Well Location Drawings
Well Logs
Maps
Architectural drawings
Plats
Sectional index books
USGS quads
Contour Maps
Parcel Maps
Utility Maps
Floor Plans
Building Plans
Oversized land/title records
Construction documents
Aerial photographs
Land surveys
A0 sized documents
NewspapersOversize books (pages greater than 11" x 17")
 The ANSI standards define the size of larger documents as:
C size 17" x 22"
D size 22" x 34"
E size 34" x 44"y scanning these documents using the LED scanners or flatbed scanners
The process converts oversized documents to small and easy to manage, access while maintaining the original quality of papers. The converted digital file types are: .PDF, .TIFF, .DWG, .DXF, and. JPEG formats.
Another type of dimension is "architectural" (mostly used in North America), with the dimensions below:
C size 18" x 24"
D size 24" x 36"
E size 36" x 48"
 These are standard dimensions set by ARCH Large Format Dimensions
Where Are Large Format Documents Found?
 Many organizations use these large file formats for architectural and structural planning. Some of the places where they are normally found are:
Building & Planning Departments
The contractor with engineering drawings
Old bound books
Libraries & Archives
Why Scanning Large Format Documents?
 When it comes to managing documents, you need to have proper space. However, digging through cabinets and drawers to locate documents is not an easy task. In comparison, maintaining digital documents would be easier at any time. That's the feedback we get from our clients.
Scanning large format documents saves space, time, and money while giving your company the ability to work and collaborate on electronic files rather than large, cumbersome pages.
Benefits of Oversized Document Scanning
 The major benefit is the reduction of the size. However, some more benefits are listed as:
Boosting Productivity
 Once the scanning is done, you can create digital folders on your PC or cloud space and store the documents in them. Systematic storage will help you boost work productivity by saving and sharing documents.
Architectural Drawings To Scansimplified Storage And Management
 Preserving engineering drawings and maps is the most difficult task for any organization. By converting them in the digital format, you can securely store them which will be easy to manage.
Central Storage And Indexing
When the scanning is done, files are indexed, so you can sort them by name, date created, file type, and other categories. This solves the file management issues, especially for old files.
Keyword Search And Accessibility
Instead of removing rubber bands and sifting through papers, digital large format documents that are indexed can be found and accessed using a simple keyword search. The category defined or creation date could be useful and time-saving.
Secure Backups And Archiving
Many large-format documents need to be kept for extended periods. Additionally, it only takes a right-click to create a spare copy, so files can be easily and regularly backed up to a separate drive or server.
What Should You Consider When Choosing a Suitable Digitization Method?
Oversized document scanning differs from "normal" scanning mostly because of the method in which the records need to be digitized. The oversized scanners are different and are costly.
 Depending on the size, condition, and considering the request from our client, we at eRecordsUSA adopt some common methods such as:
Large Format Rotary Scanner
This is our most-used large format scanner, typically utilized for large format sheets that come from building and planning departments. But if the document is in a fragile state then a planetary scanner will be a much better option.
Flatbed Scanners
Large-format flatbed scanners are a great solution for fragile or uneven documents. Documents of any thickness can be scanned on the bed of the device. Since documents are not fed through the scanner, fragile items like newspapers or historic documents will not be damaged. Another advantage of flatbed scanners is that they have a very wide color gamut and high optical resolution, perfect for scanning photos, graphic arts, and other colorful documents.
Custom Overhead Camera Scanners
 These scanners help in scanning books like large documents in large volumes. The overhead camera can take a more clear scan than the normal scanner. Normally, two cameras are situated at opposite ends of the overhead portion of the scanner, one each pointed at the two sides of the document.
 Digital Format Outputs
Once your records are digitized, you'll get the scanned images back in some form or electronic format. There are various output formats you can get. As a quick overview, below are some file types and other items you can consider:
Cropped Images
The basic image and what you likely imagine when you hear "digital file."are in the cropped form with the reduced size. Some common file types for large documents used are:
Resolution
The number of pixels per inch (PPI, also known as DPI) is used to create an image. Our scanning standard is 300dpi.
Image Format
The way that you want your digital image presented.
Bi-tonal – black and white, it's usually the smallest file size. Good for clean images.
Grayscale –a more life-like representation of the original document. Good for poor-quality images, though the file size is usually larger.
Color – color scanning gives you the true representation of the original image but is usually the largest file size, which may have a downside if you're limited on storage space
Delivery method
USB
FTP
Digital ReeL
Cloud Storage
How much does it cost to scan oversized documents?
The industry average to scan large format documents is between $0.50 and $5.00 per page. Small projects of less than 100 pages will be on the higher end of the price spectrum. For clients that need several thousand large format documents scanned, pricing can be as low as $0.50 per page.
Other factors that can affect pricing for oversized documents scanning projects are:
Turnaround time. How soon do you need the documents?
What condition are your documents in? Older, fragile documents take more time and care.
Indexing requirements. How many data fields do we need to index for each document?
Note:
Our price per image includes document prep, scanning, post-scan processing, indexing, quality assurance, and data export.
Which Company Will Help You Digitize Oversized Documents In The Best Possible Way?
Project requirements vary, therefore choosing a company nearby your office that can help you generate digital copies of your precious documents would be a wise step.
At eRecords USA, we'll work with you to ensure that the digital files you receive at the end of your conversion project are what you need based on your overall goal.
 Note: We also offer documents shredding or returning service to our clients.  Free pickup and return are available for high-volume jobs.
Next Steps
Ready to scan your large format documents? Contact us and we'll connect you with a sales rep to discuss the particulars of your project and see if we're the right fit.
Final Tweaks
Outsourcing your scanning to a large format scanning service is the first step in your transition from paper to electronic files. Once your company has decided to go for it then you must consult a company that can deliver high-quality at the best market price and meets your timelines. Some large firms also demand a document management system. So, ensure that you choose a reputed company that can accommodate the services you desire.