ARCHIVAL DIGITIZATION SERVICES
eRecordsUSA an Archival Digitization service provider is a now, CERTIFIED Minority and Women-Owned Small Business Enterprise. Providing secure confidential & high-quality professional archival digitization, document scanning & data entry services to small to large-sized businesses & many Fortune 500 companies in a variety of fields such as banking, law, manufacturing, insurance, healthcare, IT, construction, publishing, pharmaceuticals, city & county departments, libraries, educational institutes such as universities, colleges and schools now for over a  decade.
We are happy to confirm that, in accordance with the certification guidelines set forth by the National Minority Supplier Development Council, eRecordsUSA is now a Certified Minority Small Business Enterprise by the WRMSDC.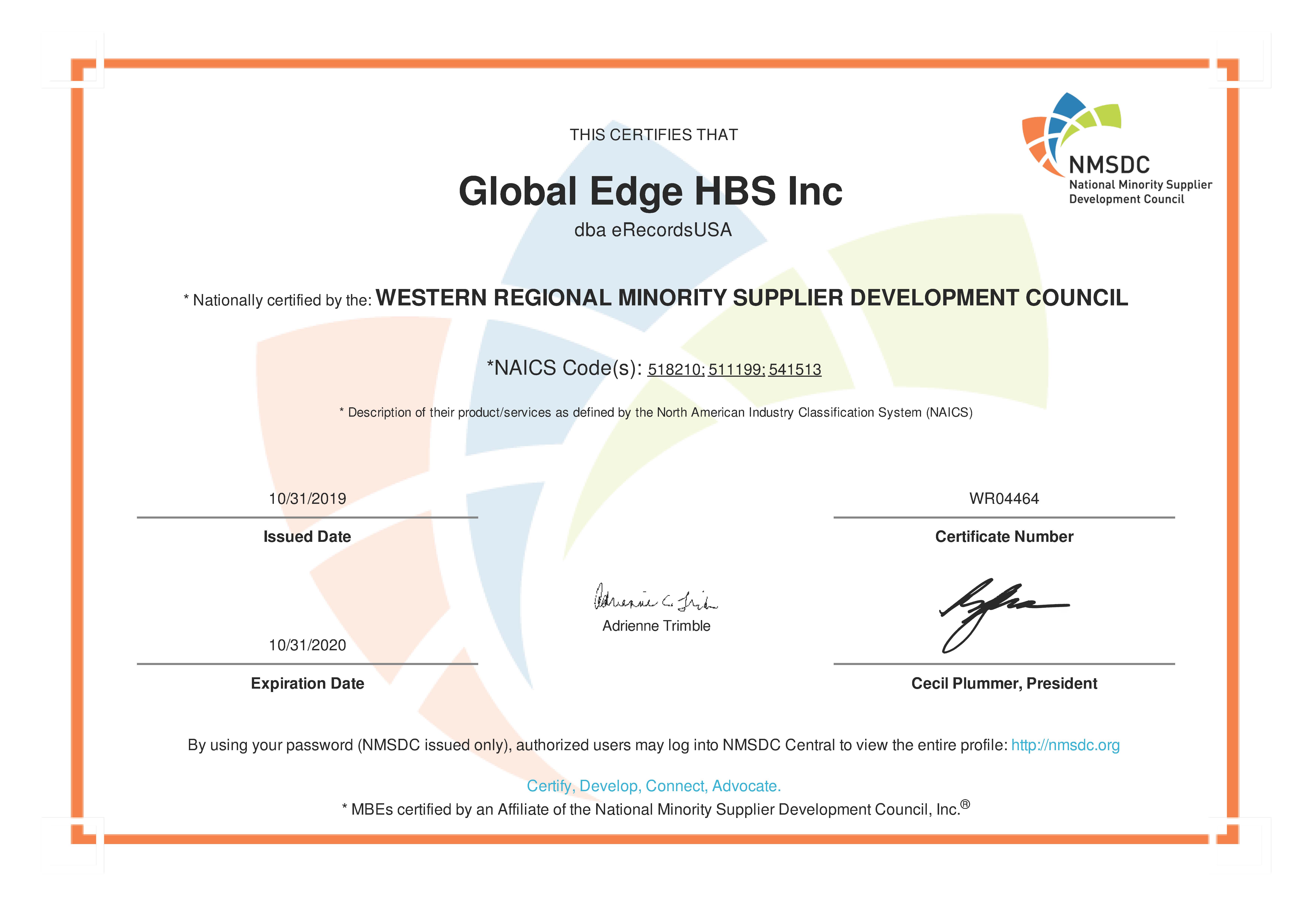 Why Choose eRecordsUSA, for Archival Digitization? 
• eRecordsUSA currently supports many small & large businesses & also fortune 500 businesses & many cities, county, state government agencies with Archival Digitization.
• eRecordsUSA has one conversion center at Fremont, CA, where all the work will be performed.
• eRecordsUSA uses only the top of the line hardware and software to perform the data conversion work.
• eRecordsUSA has the capacity to process over 100K images a day, including paper, books, films, photos, photo albums & large format drawings,  blueprints.
• eRecordsUSA has scanned many millions of documents in the last 10+ years.
• eRecordsUSA has successfully completed every project to the entire satisfaction of our customers.
• eRecordsUSA team combined have combined over 30+ years of imaging & archival experience.
• eRecordsUSA performs all the imaging work at our Data Conversion Center in Fremont, CA.
• eRecordsUSA has full "chain of custody" control – from the time the files are pickup to the return.
We are a Certified Minority & Women-owned small business committed to providing excellent Archival Digitization work and customer service. Call eRecordsUSA, @ ​855.722.6669, with your archival imaging project to discuss how we can assist you, or write to us here, with any questions that you may have.
FEDERAL & STATE CERTIFICATIONS:
SBA 8(a) Certified, Graduation 09/16/2028
SBA Certified Economically Disadvantaged Women-Owned Business
WRMSDC Certified Minority Small Business
Certified California Small Business
Alameda County SLEB Certified Small Business