What is the best way to convert old photos to digital copies, this questions comes to your mind many times. As we all know in this digital era, everything is on your mobile or virtually stored. Why not, your old photos? You can easily back up and preserve old photos by turning them into digital copies with simple scanning methods.
One of the biggest benefits of converting old photos into digital format is preserving them from natural disasters and getting rid of physical storage.Digital files can be easily replicated and stored in different locations, which vastly increases their chances of survival in critical circumstances.
But what is the best way to digitize photos? How to convert old photos to digital? You must have googled to get an answer to such questions. No worries, we are here to help. It depends on how many photos you have, your budget, what you intend to do with the photos, and how much free time you have.
Table of contents
Why  Should You Digitize Photos? 
Scanning of old photos and converting them into digital form
Hiring a Photo Scanning Company
Editing, resizing, and repairing old photos
 The Perks of Professional Photo Digitization Services
Forward Path
In this post, we will be answering the following questions so that you get to know the need to convert your old photos into digital copies: How to convert old photos to digital images? How do i convert old photos to digital Companies that convert old photos to digital?
What is the best way to digitize old photos? Is it better to scan or photograph old photos? How do I digitize thousands of photos? How do I turn my photos into digital prints?
So without any ado, let's start.
Why Should You Digitize Photos?

You must have kept your old photographs stored in a box or scattered here and there. Accumulating them to convert them into digital form will be a critical task. If you are doing it on a personal level then still it seems easy but if you are thinking of converting a collection of photos on the organization level then it is indeed a serious affair.
Some of the reasons that require digitization of old photos include:
You can create a virtual folder of digital photos that can be shared with friends and family.
Once the digital photos are available, you can dispose of the old photos that are not in good condition to preserve.
Digital photos are more organized than traditional photos. You can add the date on which it was clicked, occasion, and venue for future generations.
View images without digging through boxes in the attic, basement, or at the back of a closet on a top shelf.
Take a nostalgic trip down memory lane anytime you wish and share with others.
Also read – Tips to Scan Your Family Photos & Albums
Best Ways to Scan and Digitize Old Photos
Digitization ensures that your photos are backed up onto a computer or another device so that if something happens to their print versions, you'll always have digital with you.
To convert old photos to digital form, there are three common methods.
Scanning photos on a smartphone- Smartphones offer apps that can transfer your pics into a scanned form that can be transferred anywhere. If you have to convert one or two photos of good quality, you can opt for it.
Scanning photos on a scanner- A professional company can be hired to scan your old photos to convert them into digital form. Most of the organizations opt for it for organized photo albums
Sending photos to get digitized by a digitization service.- Digitization process involves editing, resizing, and repairing old photographs. So, if you have old photo albums that are not organized, going for this method will be a wise decision.
Also read – Options for Digitizing Historical Photographs Services
Benefits of Using A Photo Digitizing Service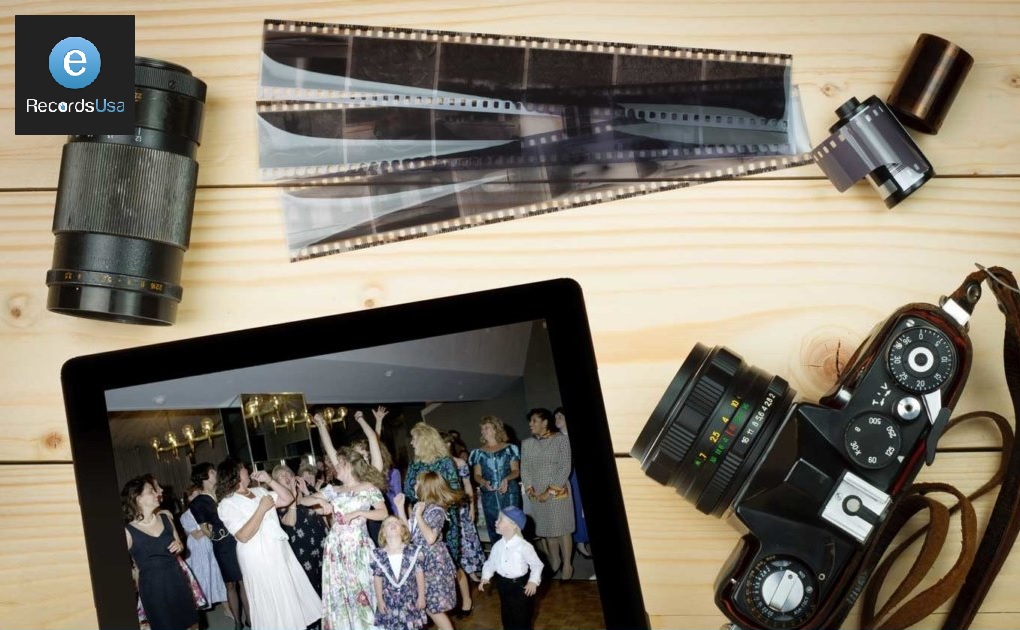 All of us have collected of photographs, slides, and negatives as our sweet memories, but now the trend is to convert them into digital form. If you don't have the time, equipment, or desire to scan hundreds or thousands of photos yourself, a professional and highly efficient scan photo service is your best option.
 An assigned technician will review and correct your images, one at a time. When they're all scanned and repaired, you'll be able to review them. This way you can organize images. Finally , you can store them in a USB, DVD or even get them transferred to your email.
Here are the six basic steps involved in converting your old photos:
Organize your prints, slides, and negatives by period, people, etc., and decide which are worthy of scanning.
Do some research on the type of scanning you would prefer to choose.
Decide how you want to store the photos.
Decide the final file format which you like to choose such as JPEGs in RGB.
Decide the degree of precision and repair you would like to go with.
Also read – How to Digitize Your Negatives and Slides?
Best Service to Convert Photos to Digital
Scanning old photos, maintaining the picture quality, and preserving the digital copies in a safe environment can be messy. Therefore, you need to carefully choose a company that does scanning and digitization efficiently.
Some of the tips on hiring the best photo scanning company are:
Don't make your decision based only on the base price per scan.
Check what size originals (prints, slides & negatives) the company can scan, if they are matching your specific requirements.
Check what image enhancement techniques the company offers.
What will the format of the scanned image be provided to you?
Does the company subcontract or outsource the work or do it by themselves?
How are the originals sent to and returned from the company?
What contact methods does the company offer?
Here at eRecordsUSA, we're proud of the services & quality we offer. Our Photo Scanning service includes everything offering extremely competitive pricing. We use high-quality scanning equipment and custom software for managing orders and tagging & organization of scanned photos.
Some benefits of using a photo scanning professional service are:
Professional results
Convenience, sometimes with the companies even supplying the shipping materials
Someone else does the tedious work of scanning each image
Editing, resizing and repairing old photos
To enhance your old photos, we've listed down several steps you should follow. These steps apply to digital photo restoration using the latest version of Adobe Photoshop.
Edit the old photos and bring them in a convertible form( especially damaged photos)
Resize the image in Photoshop.
Crop, straighten or rotate the image.
Review your photo for any corrections you want to make.
Make the necessary adjustments to your image.
Apply a filter to reduce noise.
Save the newly restored image.
Forward path
Old photos can be fragile and digitizing them enables you to adjust colors digitally and to fix scratches, fold marks, and other damage. You can then print copies of the restored pictures on better paper, making them more likely to endure through the years.

Photo Scanning Services we offer such as Large Photo Scanning Services, Family Photo Scanning Services, Negative Scanning Services, Slide Scanning Services, Kids Artwork Scanning Services, Photo Album Scanning Service, Ndt X-ray Film Scanning, Aperture Card Scanning, Film Digitizing Services for Ndt X-rays.
Once the digital copies are with you in your USB or email, you'll feel a sense of pride for achieving something that has a priceless value at a personal level or even for the organization. If you haven't thought of it, do it now and consult us!
To learn more about eRecordsUSA's Photo scanning service & Photo Album Digitization services, call us at 1-510.900.8800. We would be pleased to speak with you and answer your questions.